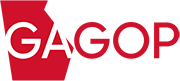 The Georgia Republican Foundation, founded in 1985, provides funding for the operations of the Georgia Republican Party.  Members contribute a minimum of $1,000 annually and are invited to a series of private breakfasts, luncheons, and receptions with Republican policymakers and campaign leaders.

The contribution may be paid monthly at a rate of $100 or quarterly at a rate of $250.  If you choose the $100 or $250 contribution option below, be sure to checkmark your contribution as recurring.
Donated before using an account?
Login